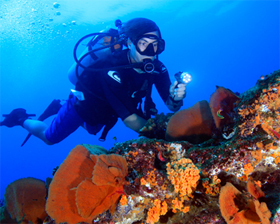 The most compact dive light on the market with unparalleled performance and features, including a dual Spot/Flood beam (patent pending). SOLA's reliable flood free design has lead the industry in rechargeable lighting systems. SOLA 2000 Dive includes the ergonomic ballistic handstrap. SOLA... Simply Better.
SOLA dive lights have a factory sealed body so you never need to worry about flooding. Control is accomplished with a magnetic slider on the top of the body. Slide forward or back to turn on. Hold forward or back to turn off. Rotate to lock.

Smart Dashboard: Three indicator lights behind the bezel report battery status, output setting, and charge status; slide forward to increments the power levels.



High: 55/110 Min 2000/600 Lum
Med: 110/220 Min 1000/300 Lum
Low: 220/440 Min 500/150 Lum
Multi-voltage 2A charger which is
fitted with a 3-pin UK plug.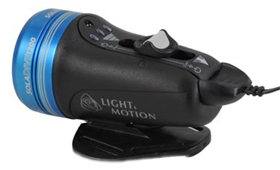 Built-in lithium-ion battery is charged through external charge ports with gold plated receivers for years of use. Factory sealed design makes charging fast and easy without ever having to open the light.