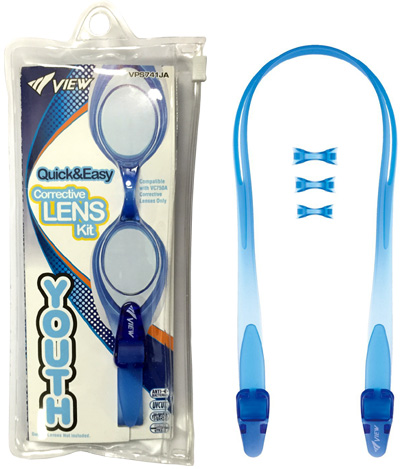 In only 20 seconds the VIEW Lens system can be turned into goggles equipped with corrective lenses.

This requires only an add-on assembly rather than a complete exchange of lenses, so the goggle does not need to be taken apart. In addition to greatly reducing the assembly time, these goggles are offered with corrective lenses at a lower price than our competitors.

The nose bridge is inserted
through the lenses.

The side clips are clipped
onto the eye cups by
applying light pressure.
The VPS-741J is a 5 piece parts kit, suitable for juniors of 6-12 years of age, that allows you to assemble your own goggles using different nosepieces and strap adjusters. Coming with 3 different sized nosepieces, side clips and a silicone strap the VPS-741J is a kit designed for the VC-750A corrective lenses (2 lenses required). The kit can be easily adjusted with interchangeable side clips that are quick and easily released.
Features:
• 100% Silicone Split Strap
• 3 Nose Sizes Included
• Hypo-Allergenic
• Suitable for ages 6-12

Requires purchase of two VC-750 Lenses

Information Sheet: Junior Parts Kit and Lenses

Colours:
Black (BK), Blue (BL)

Materials Used:
• Strap Adjuster: Polycarbonate
• Strap: Silicone
• Side Clip and Nose Bridge: T.P.E


Technology:
Silicone Strap
VIEW's high grade silicone straps offer the softest, most pliable and longest-lasting straps available on the market today. Surgical grade silicone is non-allergenic and resists stretching and fatigue from prolonged use in chlorine.