Controls: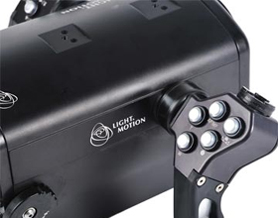 Great Controls: Beyond the features list is the real world user interface. We are proud of our finger tip handle controls that are the best in the business. Our pre-programmed one touch white balance control sequences a series of camera commands with a single button press. (G10 & XA10 utilize a two touch system)

Get instantaneous white-balance, so your subjects will keep their stunning colour, while your buddy's video will be all one colour with green shapes moving thru the frame.
Design: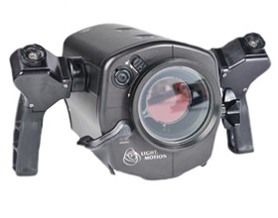 Integrated System Design: Our removable handles, locking bayonet lens mount, un-tethered camera tray, and integrated monitor back are modular elements that are easy to use and easy to maintain.


Un-tethered camera tray easily slides out with our one-push release system.


Twist-locking removable monitor back, allows easy access for o-ring and battery maintenance.
Details: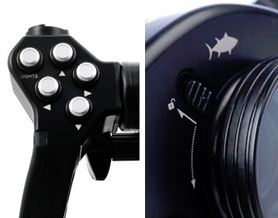 Sweating the Details: Diving with our housings reveal the attention to detail that make Light and Motion customers enjoy the sport of videography. Our locking bayonet lens mount, double o-ring seals, minimal housing penetrations, un-tethered camera tray with multiple camera support, and locking monitor back are the type of details that set Light and Motion apart.


Internal flip colour-correction filter (blue water, green water filter available upon request).